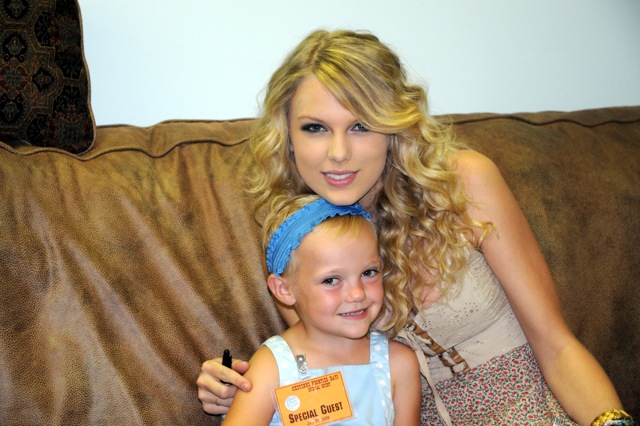 Since 1994, Western Wishes has made countless dreams come true for kids who love the "western" way of life. Contrary to other organizations who accept only terminally ill children, Western Wishes has been able to serve victims of severe spinal cord and head injuries as well as survivors of cancer, muscular dystrophy, cerebral palsy, and heart afflictions. Many of them would have been turned away from traditional "wish" organizations because they only select terminal children under the age of 18. Western Wishes is different.
It has been our pleasure to see treasured dreams turned into lasting memories. Our recipients are predominantly rodeo and horse show competitors or ranch-raised children. The common thread we find with most Western Wish kids is that they posses a fierce competitive spirit which allows them to focus on their goals, rather than their affliction , giving them a positive outlook. As such, they are able to become "Ambassadors of Hope" to others who are about to enter the long road to recovery, or who are preparing to face the end of an already too-short life.
The three individuals highlighted below each received their special "Western Wish" during the first year of our existence. They have become the cornerstone of our organization, and we showcase them now with our gratitude, respect and love.
Lady and the Champ
1994- Alyssa Bigon, from Petaluma, California, could hardly keep her composure when Western Wishes contacted her to tell her that she was the first recipient of the Western Wishes program. After undergoing extensive chemotherapy and radiation treatments for leukemia and during her sickest time, Alyssa, a five-event high school rodeo competitor, had not only won the all-around championship for her entire district, but went on to compete in the high school national finals.
Alyssa's favorite county music artist happened to be Doug Supernaw who had a hit album at that time and was to be in concert at the Long Beach "Bull Riders Only" event (back when Tuff, Ty, Jim Sharp, Cody Custer, Charlie Sampson, Terry Don West were the stars). Western Wishes sent Alyssa and her family to the event, thanks to Doug's generous contribution of plane tickets. The wish was coordinated in less than four days. Alyssa was the special guest of honor at the BRO event and the concert that followed. Doug Supernaw summoned Alyssa up onto the stage as told her courageous story.
When he announced that she was a national high school rodeo champion who also beat leukemia, the crowd burst into applause. Doug then dedicated a special song to her while she was seated on the stage. When she jumped down off the stage, a crowd of fans hugged her and shook her hand to congratulate the fact that she had beaten the odds.
It was a proud moment for Alyssa and a dream came alive for Western Wishes. We thought this just might be a great program to continue.
The next part of Alyssa's wish took place a week later, when her favorite rodeo champion, all around champion of the world, Dee Pickett, flew down just for the day to the Cow Palace in San Francisco….and that just happened to be her 18th birthday. Alyssa and Dee had a special one-on-one roping session and gave her tips that will last a lifetime.
Alyssa was quite the media star that day. All three network affiliates and Associated Press showed to to learn about her dreams and witness the twinkle in her when she met her rodeo hero for the first time.
Western Wishes was proud to see that her indomitable spirit moved the media. Alyssa expressed her desire to be a spokesperson for the program to give hope and inspirations to kids who are fighting to beat the odds–a confirmation that we were definitely on the right track.
No-Limits Cowgirl
Oregon teenager, Kara Wilson, was the second Western Wishes recipient. Due to the crippling effects of Lyme Disease, she had been confined to a wheelchair since the age of nine. But Kara still managed to compete in high school rodeos.
Although hers was never the fastest time, the shear fact that she competed at all was miraculous!
Western Wishes honored Kara at the 1994 Reno Rodeo. During the performance, Kara made a spectacular exhibition barrel race, and received a long standing ovation from over 10,000 cheering fans. With her legs strapped to her horse's neck and her waist secured by double seat belts, Kara showed us and her heroine, Charmayne James how she competed.
There wasn't a dry eye in the crowd! Then ten-times world champion, Charmayne, presented Kara with a specially-designed Sharon Camarillo saddle.
Next, Kara was whisked away by Western Wishes to attend a Susie Luchsinger concert with a special meeting with her.
Later that month, Kara and her family were thrilled to see her story and inspiring barrel race on the ESPN telecast of the Reno Rodeo.
We were now convinced that we had a good program that was filling a void. Not only were we making dreams come true, but we were able to show the "good" in rodeo and the rodeo cowboy, by touching hearts and lifting spirits.
In our first year we managed to complete three other wishes–all stories of beating the odds…until Jody.
Some Kids Aren't so Fortunate
Jody Ledbetter, 21, from California, never thought in his wildest dreams he would ever have a chance to attend the National Finals Rodeo or meet his real life heroes in person, but that's exactly what happened.
Jody's dream went back to his senior year. He was a bull rider in high school rodeo and dreamed of some day qualifying for the National Finals. That dream came to a crashing halt when he was diagnosed with terminal stomach cancer.
Western Wishes heard of Jody's dream and made it possible for him to attend the National Finals in Las Vegas. In three days, Jody met every world champion he ever wanted to meet and attended the Chris LeDoux concert (his favorite country singer) with a personal backstage visit with Chris.
Then in what is best described as an unforgettable moment, Jody was asked to present the bull riding go-round buckle to his favorite world champion bull rider, Ted Nuce. Ted had not only ridden the bucking bull of the year, Wolfman, but it was the high-marked ride of the entire NFR!
Jody was honored to do the presentation, but that night Ted's hero was Jody. Spontaneously, Ted gave a gift of the heart, his coveted buckle, to Jody–a very emotional moment for all who attended the Gold Coast Buckle Ceremony. Again, not a dry eye, while Bob Tallman told Jody's story and garnered a roaring ovation.
Six weeks later Jody passed away, but not without his unforgettable moment with the champions.
Looking to the future
February of 2012 brings the launch of the Champion In You Ranch Program. The program is the result of the intertwined efforts of the Chris Cox Diamond D Ranch, Western Harvest Ministries, and Western Wishes. "It is the hope of Western Wishes not only to make this an annual event, but also expand this program throughout the nation", says Donnalyn Quintana, President and Founder of Western Wishes. "We predict this will be one of the most influential, long-term projects of Western Wishes."
In addition, Western Wishes is working to produce and then premiere a music video in July of 2012 during the Championship Bull Riding Finals in Cheyenne, WY. The inspirational music video will memorialize and celebrate former and current wish recipients in a photo and video montage, with an annual overview of the Western Wishes Program. This will lead to the publishing of a Western Wishes book and DVD series, that will highlight each year's crop of wish stories.
Although the main focus of Western Wishes is to reward the courage of young individuals by making their dreams come true, Western Wishes feels their stories of faith and determination will have a positive and far-reaching impact on everyone. Exposure of these motivating stories through television, radio, newspaper and magazine features is enormously uplifting, not only to challenged individuals but to us all.
Therefore, we will continue to bring compelling stories to the people in the western world through a dedicated campaign of celebrating the human spirit of kids who cherish the heritage of the American west and who are waiting for their Western Wishes to come true.
Of course, each and every year, a delegation of wish recipients from across our nation, representing all or most of the Western Wishes Chapters, will experience the Wrangler National Finals Rodeo (WNFR). The WNFR will also serve as the platform for all Chapter Directors to meet and discuss chapter responsibilities and progress during the annual Western Wishes Chapter Conference.
Western Wishes… turning dreams into lasting memories!